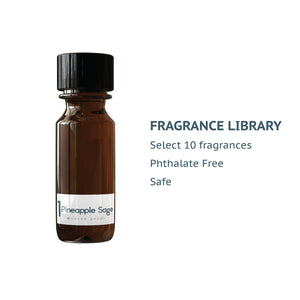 Fragrance Library
Select up to 10 fragrances and we will ship you your very own Fragrance Library customized specifically for you. You'll receive 10 fragrance samples along with notes and tester strips so that you can pick your next perfect candle.
PLUS you'll receive an order credit for the cost of the library that you can use on your next order.  
Here's how it works. 
GETTING STARTED: This fragrance library contains the scents that you selected along with other best selling scents if you don't pick 10. You'll have the opportunity to smell 10 phthalate free premium fragrance oils to help you on your candle creation journey.
Once you receive your fragrance library follow the included instructions.
Have a candle scent smelling party or hoard them all to yourself, we won't judge.
Take notes, did it make you like or LOVE list?
You're ready to build your next candle!